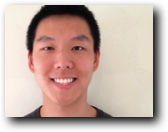 Daniel Zhao is a senior at NYU Steinhardt, majoring in Piano Performance. Originally from Vancouver, Danile began studying at an early age and worked with many teachers, primarily Donna Fishwick. He has also taken lessons from Sasha Starcevich, Linda Lee Thomas, and Bob Rogers. Daniel has performed as a soloist and chamber musician throughout the United States, Mexico, Canad, and across Europe. Upon winning first place at the Young Musicians of the Future Competition in Beijing, he was invited to perform with the Beijing Youth Orchestra. In 2010, Daniel received his Associate of the Royal Conservatory of Toronto Diploma from the Royal Conservatory of Music, as well as his Kelly Kirby Teacher Certificate.
Currently, Daniel studies with Jeffrey Swann. He has performed at NYU in several Honors Recitals and Chamber Recitals, and on the series Music with a Vue. He has also played in master classes for Amy Gustafson and José Ramon Mendez. In his freshman year, Daniel was awarded Honorable Mention in the NYU Piano Concerto Competition.
Apart from musical studies, Daniel has also pursued other academic interests such as completing a computer science and mathematics minor, as well as studying Chess and Texas Hold 'Em.