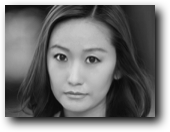 Pianist Sunhwa Hong has proven herself to be a versatile pianist, performing actively as a soloist and collaborative artist. Ms. Hong was born in Busan, South Korea and currently resides in New York. She began studying the piano at the age of six and graduated as a piano major from the Peniel Middle and High School of Arts in South Korea.
Ms. Hong's aptitude as a capable and compelling solo pianist was evidenced early on when she was a finalist in 1998 at the most prestigious competitions in South Korea such as TBC Daegu Broadcast Competition and won the Korean Society for Music Education Piano Competition both in 2000 (3rd place) and again in 2003 (2nd place). The very next year she was accepted into the University of Ulsan, where she was given the honor to perform as a soloist at the Concert Hall of University of Ulsan for being accepted into the school as an honor student with the highest credentials for that year. Also, she awarded Performance Scholarships in 2003-2004. Her musical dedication and abilities earned her an invitation to The International Academy of Courchevel, France to attend the festival under an all expenses paid Performance Scholarship in 2005. She decided to continue her studies abroad and finished her Bachelors in Music at Stony Brook University in Long Island, NY. She then attended Purchase College where she studied under the widely recognized pianist, Paul Ostrovsky (Student of Emil Gilels) and Stephanie Brown. While there, she was awarded the Merit and Fellowship scholarship and was nominated to perform as a pianist for the Purchase Symphony Orchestra in 2011-12. Ms. Hong performed at two solo recitals in 2011 and 2012 at the Purchase Conservatory. She also served as an assistant accompanist for the schools vocal department in 2012 as well as earning her Performer's Certificate there the same year. She obtained her Masters at Brooklyn College and gave a breathtaking performance at her Graduate Solo Recital in 2014. Also she served as an assistant accompanist during her masters at Brooklyn College.
Sunhwa has continued to be consistent as a performance musician, being showcased in many prestigious events. Ms. Hong performed at the National Opera Center in NYC for the Sopranos Concert with Pianists and gave multiple concert performances as an accompanist at the New York Hospital of Queens for their annual charitable fundraising event for the American Cancer Association. She also was sought out by Queens College that year to aid as a rehearsal pianist for Copland's The Tender Land. Sunhwa was also the pianist in Menotti's Amahl and the Night Visitors performance with Opera Oggi in NYC in 2012. Ms. Hong has also been featured in performances with the Suffolk Performance Group in NY and the Ulsan Piano Music Society in Korea. In 2007, she made debut as a soloist performance at Steinway Hall in NYC. More recently, Sunhwa performed at Frank and Camille's Concert Hall in Long Island in May, 2016 and she was awarded the hornorable mention prize at the American Protege International Piano and Strings Competition and she performed at Carnegie Hall in November, 2015 at the winners recital. She has also been contacted by the Ulsan Chamber Orchestra to perform with the Orchestra in October 2016 at Junggu Arts Center in Ulsan, South Korea.
Ms. Hong currently maintains a thriving private practice, passing on her love for music to the next generation. Since 2011 she has held an annual recital for her students which showcases the abilities and prowess of both student and teacher. Ms. Hong was awarded recognition for her practice earlier this year in January by the KRB New York International Music Competition when two of her students placed in the top three in two different age groups and were given the opportunity to perform at Carnegie Hall. Ms. Hong has also performed as an accompanist pianist for many Catholic and Presbyterian churches in NY since 2010. Currently, she serves as a rehearsal accompanist at Preparatory Arts Center at Brooklyn College since 2013 and she performs for CheongAm Methodist Church in Flushing, NY.