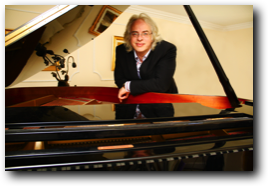 Frank McNamara
is one of Ireland's best known pianists and conductors having spent almost 40 years performing in high profile television shows and concert tours. He is equally comfortable in any genre, whether performing a Chopin Ballade, a Bebop tune, a big band standard or a country classic.

Born in 1960 in Ireland, McNamara was a child prodigy making his first tv appearance at the age of 11 on RTÉ Television. A native of Thurles, Co Tipperary, he won a scholarship to the Royal Irish Academy of Music in Dublin in 1973 where he studied piano with Rhona Marshall, theory with Dorothy Stokes and Composition with James Wilson. While at the Academy McNamara won several first prizes at all levels culminating in being awarded the prestigious Brioscu Cup for the most outstanding student.

McNamara began his academic music studies atTrinity College Dublin in 1977, being awarded an honours music degree in 1982. While at Trinity, McNamara commuted to London England to study piano with legendary English concert pianist, Peter Katin.

As a classical pianist, McNamara has performed concertos and solo concerts including the Kilkenny Arts Festival and the National Concert Hall, Dublin, Ireland. Concerto repertoire includes Gershwin Rhapsody in Blue, Rachmaninov Piano Concerto No 2, and Beethoven Concerto no 3.

A born performer. McNamara has fronted several musical groups from Piano Trios (Classical) to Jazz Trio with Stephen Keogh on drums and Lindsay Horner on Bass, to writing for and fronting his own Big Band. (His love of Big Band music had come at an early age when he was pianist with a Big Band at the age of 12).

It was his work as Music Director of Irish television's flagship chat show The Late Late Showthat brought McNamara to the attention of the general public and he became a household name in his native Ireland. During his time on the show he performed with people like Sir James Galway, Larry Adler, Aaron Neville and Joseph Locke. What is particularly remarkable is that while this position was the pinnacle of musical achievement in Ireland, McNamara was only 19 when he started.

As an arranger, McNamara's work has been showcased by major orchestras worldwide. He is the only arranger ever to successfully produce and arrange two back-to-back Eurovision Song Contestentries. His arrangements are regularly performed by the Boston Pops Orchestra.
His work with The Irish Tenors Official as their original music director, arranger and producer gave McNamara an opportunity to explore bringing standard Irish folk- songs into a classical orchestral context. Tasked with developing a commercial sound for The Irish Tenors, McNamara's writing skill was a major part in the success of the group. McNamara scored and produced five albums with the tenors and three Television Specials for PBS. Performing venues like Madison Square Gardens and Universal Amphitheatre, McNamara conducted several tours of his music with the Irish Tenors in the USA, Australia and New Zealand. McNamara also accompanied The Irish Tenors on piano for several major US national television shows like Good Morning America, Today Show and Regis and Kelly.

The first Irish Tenors US tour in 1999 (with special guest James Galway) was one of the top grossing tours of the year with the first album, produced by McNamara, selling over a million copies worldwide with Gold record status in the US, and multiple platinum in Ireland Australia and New Zealand.

McNamara has conducted many of the world's leading orchestras including the Royal Philharmonic Orchestra, The Boston Pops, The San Francisco Symphony, The Detroit Symphony, The Baltimore Symphony, The London Chamber Orchestra, The Cleveland Pops The Melbourne Symphony and the Sydney Symphony.
As a popular recording artist, McNamara released his first album in 1985, entitled "Irish Reflections", a selection of his arrangements of Irish songs for piano and orchestra. This album debuted at No 1 in the Pop charts where it remained for 5 weeks. McNamara has had many chart successes both as an artist and producer. He has recorded several multi platinum albums.

In 2003, Frank McNamara founded the American Tenors. A three tenor group featuring Nathan Granner, Daniel Montenegro and Mauricio Trejo O'Reilly. Their McNamara produced/arranged debut CD was released by Sony Classical USA. Their debut TV music special was produced for PBS by McNamara and taped at the Kodak Theatre in Hollywood. In concert performances with the American Tenors a highlight for audiences was McNamara's mesmerising solo performance of Danny Boy on piano.

Being equally at home in all genres McNamara is fascinated with breaking genre barriers. To this end he has written several works that cross over genres. For example his Beatles Symphony is a full symphony using themes from the Beatles. His "Swedish Rhapsody" is a Piano Concerto, with McNamara as soloist, using ABBA songs as thematic material. He also penned a huge version of Handel's Messiah to celebrate the Millennium with funding from the Irish Government. McNamara's version of this great work is in a Gospel/Rock Style while still preserving the essence of Handel. The first performance of this work took place in Dublin in December 1999 with soloists Gladys Knight, Roger Daltrey, Jeffrey Osborne and Chaka Khan. The show was taped live for television and broadcast on 37 stations worldwide including PBS in the USA.

McNamara has become a musical "bridge" for many pop artists who want to work with orchestra. He regularly writes and performs with LeAnn Rimes, Jewel, Duran Duran, Seal, Counting Crows and Ben Folds. With both LeAnn Rimes and Jewel, McNamara conducted the 60 piece orchestra from the piano.